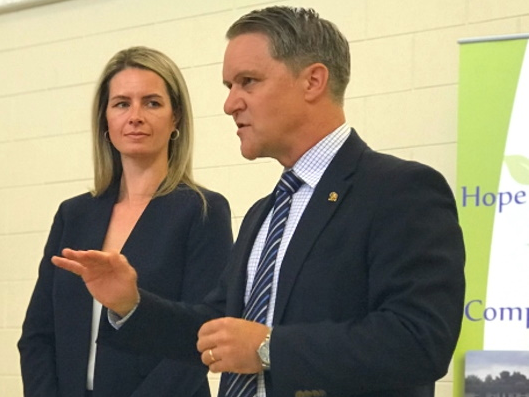 The CEO of Eden Health Care Services is taking on a role within the Manitoba public service.
Manitoba Premier Brian Pallister made the announcement Wednesday.

Kymberly Kaufmann has been appointed deputy minister of mental health, wellness and recovery – a recently created department within the Manitoba Government.

Kaufmann brings a variety of experience to the job having headed up Eden Care Health Services since 2018 and prior to that, served in a variety of roles with the Selkirk Mental Health Centre.

According to the Province, she holds a Bachelor of arts and a master's degree in occupational therapy, as well as certificates in public sector management andKym Kaufmann. Supplied photo. quality management, all from the University of Manitoba.
"I am pleased that these experienced and talented individuals are taking on new roles with Manitoba's public service," said Pallister, who made two additional appointments in Wednesday's announcement. "They bring deep knowledge and understanding of the issues associated with their portfolios, and are well-qualified to serve Manitobans."
Meantime, board members of Eden Health Care Services say it is with mixed feelings that they have accepted Kaufmann's resignation as CEO.
"While sorry to see her leave, the board congratulates Kym in her new role as the Deputy Minister of the Mental Health, Wellness and Recovery ministry," said the board in a news release.
Her resignation is effective April 16, 2021. She starts her new job in the public service on April 26, 2021.
Since coming on board at Eden in 2018, board chair Al Kehler says Kaufmann has shown remarkable leadership capacities, great integrity, and an energizing passion for mental health work.
"She has served well, and leaves Eden with an excellent staff, strong systems, and expanding services. The government of Manitoba has made a fine appointment," he added.
"While Eden will miss Kym's leadership, the Mental Health, Wellness and Recovery Ministry will profit from her considerable skills," he said. "I take this opportunity to wish Ms Kaufmann the very best. It has been a pleasure to work with her."
Eden has appointed Mr. Ken Kroeker as interim CEO and has started a search for its next CEO.
Reprinted with permission from Golden West Media.