Caroling for a Cause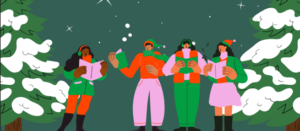 December 21st is the longest night of the year. 16 hours of darkness is what we experience in Southern Manitoba, from sunset on the 21st, to sunrise on the 22nd. For those struggling with mental illness, those 16 hours only magnify the on-going darkness they face, day-to-day.
At Eden Foundation, we do what we can to ensure our fundraising opportunities are uplifting. And in the words of Buddy the Elf, "The best way to spread Christmas cheer is singing loud for all to hear!"
On December 21st, 2022, our teams of volunteers will be warming up our vocal cords, and heading out to nominated houses in Winkler, to sing carols, and share some Christmas cheer.
To make sure we stop by YOUR house, or to nominate a friend, make a donation, and email us with the address we should visit! (Due to limited time, we will be caroling only in WINKLER this year).
EMAIL your street address, or the address of your nominee, to: foundation@edenhealthcare.ca
Click HERE to fill out the donation form. Thank you!