Today is December 21st, which means it is the day with the fewest hours of daylight in the entire year. That makes tonight, the longest night of the year. And, in what has become tradition, Brent Manke of Steinbach is again coordinating The Longest Night Run.
This virtual overnight relay started in 2018 as a show of solidarity for Manke's friends Jordan and Ashleigh Dueck. Ashleigh was battling cancer and Manke organized the 16 hour relay as a way for friends, family and complete strangers to show their support.
Ashleigh passed away earlier this year, but Manke decided to continue with the traditional relay. This year's event will be a fundraiser and awareness campaign for Eden Health Care. The event carries on as a memorial to Ashleigh's life, honouring her work as a counsellor with a concern for mental health.
The way it works is individuals are encouraged to sign up for a 60 minute slot between Tuesday at 4:29 pm and Wednesday at 8:21 am. There are a total of 16 slots, and because each slot already has at least one runner signed up, that means there will be a continuous relay for nearly 16 hours. Each slot can be filled by multiple people and there is no limit to how many slots a single person can sign up for. Because it is a virtual relay, people can take part from any location around the world.
Click here for more information or to sign up for this year's event.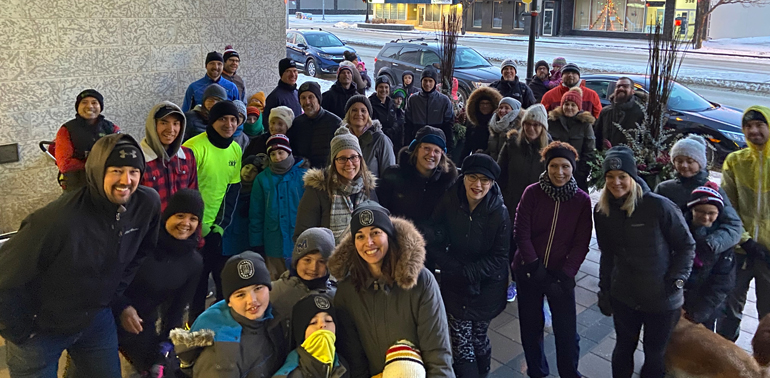 Manke says supporting Eden Health Care through this event is something that a lot of people can relate to.
"We found that lots of people could resonate with that and could relate to going through dark seasons and experiencing illness or just difficulties," he says. "What we're trying to encourage this year, is that people run in honour of someone else who is going through a difficult time."
For those running in Steinbach, Eden Mental Health Centre at 380 Stone Bridge Crossing will be open all night. Snacks, coffee and hot chocolate will be available, as well as washrooms and space to change. A group will be leaving from this location on the 29th minute of every hour. Only those fully vaccinated may enter the building. Depending on the weather, refreshments will be available outside as well.
Manke explains they will also have The Longest Night Run trees set up outside Coffee Culture and at the entrance to the Heritage Cemetery on Loewen Boulevard for anyone wanting to hang an ornament.
According to Manke, this event has seen anywhere from 100 to 160 participants in years past. As of Monday afternoon, more than 100 slots have already been filled for this year's run. A couple of those runners are hoping to do the entire 16 hours.
Originally published on Steinbach on Line by Shannon Dueck.