Visit the Villages Tractor Trek is on and like we did last year, we re-scheduled. This time we're rescheduled to Saturday October 2nd. We moved to the later date, largely because we were very unsure as to how much freedom we would be granted by the provincial government with respect to health measures in July and having moved the date of the Trek, conditions thankfully allow us a great degree of flexibility.
We're starting at the Reinland Community Centre again and heading to Gretna for lunch and from there to Neuberthal Commons for supper.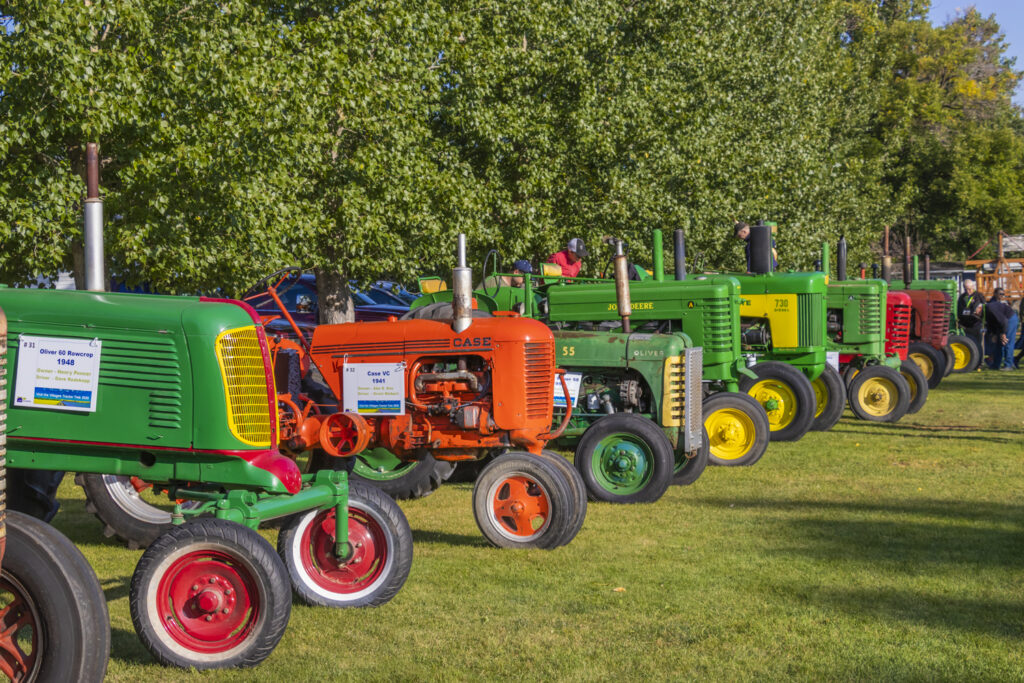 Visit the Villages Tractor Trek is a fund-raiser to support mental health recovery programs for individuals living in our Southern Health region. By registering and raising funds, you are making a profound difference in the lives of many individuals living with a mental health challenge. Taking part in Visit the Villages Tractor Trek, trekkers and donors and give Hope a Shape.
Each trekker will be responsible for the Registration Fee of $150 and is asked to raise $1,000 per tractor entry. This is the goal and if you don't get there, you still get to ride. The purpose of the event is to have a good time, but we also hope that you can appreciate the value of the work that you do for those who are on a mental health journey. When you register, you'll receive a tractor number and a pledge sheet. If a donor wants a tax-deductible receipt, please complete all information areas on the pledge sheet for each donation.
You can Register on line by clicking the button above and you can also set up all your fund-raising at this same location. You're always welcome to register and fund-raise old-school style with pen and paper and once you're registered, we'll send you the Pledge Forms. With Covid being part of our lives right now, having coffee with friends and sliding over the Pledge Sheet is a bit more difficult, so the on-line option could be a good option. You can also point at DONATE TO A TREKKER for those comfortable making a donation on-line.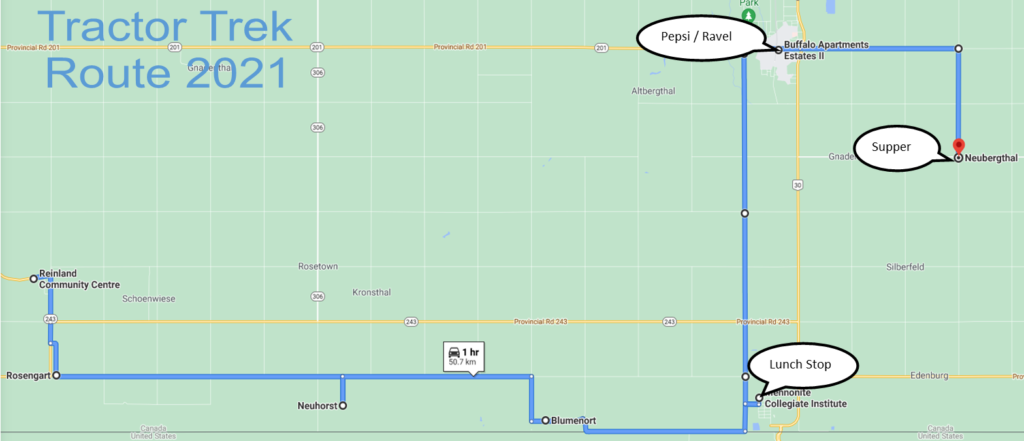 Our trek this year, is going to take us to Neubergthal where well be parking at Neubergthal Commons. This location is a National Heritage Site and we're fortunate to have been invited to come visit and tour the area. On the way there, we're going to be driving to Gretna where we'll stop at Mennonite Collegiate Institute for lunch. MCI is another of the significant historical components of the "village network" that has been part of our annual trek. From there we'll make our way to the west side of Altona and then after a stop at Buffalo Apartments, we'll be escorted eastward through town and across Hwy. #30.
Here are some of the services that benefit from the donations generated by this event:
Renovations to our properties including

Enns Courts
Linden Place
Eden Mental Health Centre
Wilson Courts
Penfeld Court

Personal and family counselling services of Recovery of Hope
Support for employment services provided by Segue Career Options
In addition, our services are expanding. Because of the dramatic increase in the number of counselling sessions that Recovery of Hope is delivering, more counsellors are needed and therefore the office in Winnipeg will be doubling its space by taking over the neighbouring space of our present office area. The most significant advantage will be that Recovery of Hope will be able to offer group therapy session in addition to individual and family counselling. In Steinbach all our services are moving into brand new space on Stone Bridge Crossing, thanks in large part to the generous efforts of Bethesda Foundation. Eden does still have operational obligations for this new 3,000 sq.ft. space.
Not only have our existing services in Steinbach moved into the Eden East Mental Wellness Centre but additional services are being added, including Community Mental Health services and once we've successfully recruited, we will also have a resident psychiatrist serving out of that office space. The doctor will be working in very close collaboration with the Crisis Stabilization Unit and Bethesda Hospital in Steinbach.
The weather will be cooler in very early October but if last year was any indication, the colours should be quite spectacular again.
After we've had some fun handing out awards and having a bite to eat, you can make the drive back to Reinland or alternately, we've arranged with the John Deere dealer, GVE Equipment in Altona to use their loading docks.